GIVE BRILLIANT – SWAROVSKI
Hi guys! How are you? I am back from New York and I am very excited to share with you today two special videos. One is covering the backstage of the Swarovski #givebrilliant campaign, filmed a few months ago in Amsterdam with a few amazing bloggers, and the other one is the #givebrilliant campaign. It's all about celebrating the special moments in life and make every day extraordinary. One of my favorite pieces of the collection: the Crystaldust bracelet which you can find here! So make every moment shine bright!
Coucou! Comment allez-vous? Je suis de retour de New York et super heureuse de partager avec vous aujourd'hui deux vidéos très spéciales. L'un couvre les coulisses de la campagne Swarovski #givebrilliant, filmée il y a quelques mois à Amsterdam avec quelques blogueuses que j'adore, et l'autre est la campagne #givebrilliant. L'idée est de célébrer chaque moment particulier de la vie et de rendre chaque jour extraordinaire. Une de mes pièces préférées de cette collection: le bracelet Crystaldust que vous pouvez retrouver ici! Offrez de la brillance!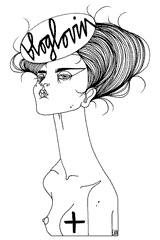 Recommended
3 Comments