SENS EN PROVENCE
Semaine dernière, j'ai eu la chance d'être invitée au Château Roubine en Provence, tout près de Saint Tropez, un domaine incroyable au cœur des vignes. J'y ai rencontré deux femmes exceptionnelles, Valérie Rousselle, propriétaire du domaine et Cécile Destaing, docteur en pharmacie, qui ont crée ensemble la marque de cosmétiques 
Sens en Provence
.
Last week, I was lucky to be invited to Château Roubine in Provence near Saint Tropez, an incredible place in the heart of the vineyards. I met two exceptional women, Valerie Rousselle, owner of the domain and Cécile Destaing, doctor of pharmacy, who created together the beauty brand
Sens en Provence
.
La marque se distingue par l'extraction des actifs issus du terroir du Château Roubine, notamment de la fleur de vigne, le miel ou l'olivier. Fortement marquée par sa première expérience en thalassothérapie, Valérie Rouselle s'est intéressée aux bienfaits des produits méditerranéens comme l'huile d'olive, la lavande, le miel … Elle a décidé d'associer les vertus de la vigne à celles de la grande bleue.
The brand is distinguished from others by the extraction of assets from Château Roubine, especially the vine flower, honey or olive tree. Strongly influenced by her first experience in thalassotherapy, Valérie Rouselle became very interested in the benefits of Mediterranean products such as olive oil, lavender and honey … She decided to associate the virtues of the vine with those of the region.
Les produits Sens en Provence puisent leurs forces dans les actifs naturels extraits directement de la biodiversité du vignoble Cru Classé de Château Roubine. Un voyage riche en surprises, nous sommes parties à la cueillette des fleurs de vigne qui serviront à l'élaboration des produits de beauté, nous avons eu droits à des massages fantastiques, nous avons profité de la piscine et avons bien entendu bu du très bon vin!
The Sens en Provence products take their strength from the natural assets that are extracted directly from the biodiversity of Château Roubine's Cru Classé vineyard. A trip full of surprises, we got to pick up the vine flowers that will be used to develop the cosmetics, we also got a fantastic massages, we enjoyed the pool and of course drank some very good wine!
Je reviens vite vous parler de mon voyage à Cannes!
I'll be back soon to tell you all about my trip to Cannes!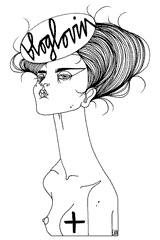 Recommended
2 Comments