2 CITIES, ONE LIFE
I'm a French girl living between Paris and Luxembourg:
being in Luxembourg always brings calmness and I enjoy the stress of the city when I'm in Paris.
I first started my life as a grown up in Paris and after a few years I moved to Luxembourg
because that's where love was… things have changed but I'm now living between
these two cities
that I've learned to enjoy and love.
Since I always get many emails
from you asking me what my favorites places to eat, shop,
drink and hang out in Paris are…
I have been thinking of making a Paris Guide.
So I'm working on it and as I also have people from Luxembourg asking me
to do the same I just thought that it would be interesting to make a Luxembourg Guide
as well and share with you what my favorite spots in both cities are. What do you think?
Scarf: gift from my trip to Chianti
thanks to Blogger For Social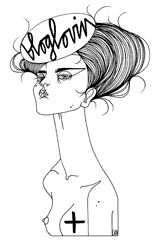 Recommended
31 Comments