BLOGGING CLASS: PHOTOGRAPHY
Hey guys! Starting the week with great news! I am very happy to announce you that our third Blogging Class will be dedicated to Photography. It will take place on the 15th and 16th of December starting 6.30 pm at House 17. The program will be: a one hour class about Photography skills followed by our very first Bloggers Christmas Party organised in Luxembourg! Many surprises will be waiting for you!
We're gonna talk about everything that happens behind the lens, creatively and technically: camera settings, editing, location, inspiration, light, angles…
Don't forget to bring your laptop AND camera!
And I have the pleasure to announce you that our guest speaker will be the american blogger and photographer Haleigh Walsworth from
Making Magique
, also official blogger of
Lancome USA
and content creator for brands such as Nina Ricci, Bumble & Bumble, Asos, etc.
I can't tell you how much fun we're gonna have, I'm working harder on this Blogging Class so we learn a lot together and celebrate Christmas and the holidays all together!
Dress code: wear some RED!
On démarre la semaine avec des news! Je suis super heureuse de vous annoncer que notre troisième Blogging Class sera dédié à la Photographie. Il aura lieu le 15 et 16 décembre à partir de 18h30 chez House 17. Au programme: un heure de cours suivie de la première Bloggers Christmas Party organisée à Luxembourg! Et pour l'occasion je vous organise pas mal de surprises!
Nous allons donc parler de tout ce qui se passe derrière la caméra, au niveau créatif et technique: réglages de l'appareil, édition, inspiration, lumière, angles…
N'oubliez pas d'amener avec vous votre ordinateur ET votre appareil photo!
J'ai aussi le plaisir de vous annoncer que nous recevrons à l'occasion la blogueuse et photographe américaine Haleigh Walsworth du blog
Making Magique
, aussi blogueuse officielle pour
Lancome USA
et créatrice de contenu pour des marques comme Nina Ricci, Bumble & Bumble, Asos, etc.
On va bien s'amuser et je travaille dur pour vous présenter un cours super lors de ce troisième Blogging Class et pour que l'on célèbre les Noel ensemble!
Pour vous inscrire, envoyez-moi un email à
[email protected]
, les places sont limitées.
Dress code: portez du ROUGE!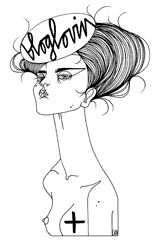 Recommended
3 Comments