CALVI ON THE ROCKS
Hey guys! I hope you all had a beautiful weekend! So I've been travelling a lot lately and as you know I was in Corsica with Havaianas to attend the famous Calvi on the rocks music festival. It was my first time there as I am normally in Paris for the Haute Couture week that time of the year. But I've always wanted to experience Calvi on the rocks so when Havaianas invited me, I decided to give it a try! And I loved it. The beach, the sun, the hot weather, the private boats to party, enjoying the music on the beach all afternoon and at night… have you already been? I leave you with a few pictures and I talk to you very soon!
Coucou! J'espère que vous avez passé un bon week-end! Comme vous le savez j'ai beaucoup voyagé ces dernières semaines, et j'étais en Corse avec Havaianas pour assister au fameux festival de musique Calvi on the rocks. C'était ma première fois, je suis normalement à Paris pour la semaine de la Haute Couture lors de cette période de l'année, mais j'ai toujours eu envie d'y aller donc lorsque Havaianas m'a invitée, j'ai immédiatement accepté! Et j'ai adoré. La plage, le soleil, les bateaux privés pour faire la fête, profiter de la musique sur la plage et la nuit … avez-vous déjà fait Calvi on the rocks? Je vous laisse avec quelques photos et je reviens très bientôt!
And of course I was there with my partner in crime Hannah, we've been working a lot together and she quickly became one of my best friends! We are going to Antwerp and Monaco this week for some new exciting projects!
Et bien entendu j'étais avec ma compagne de voyage Hannah avec qui je travaille de plus en plus et qui est très vite devenue l'une de mes meilleures amies! Nous partons ensemble à Antwerp et Monaco cette semaine pour de nouveaux très beaux projets!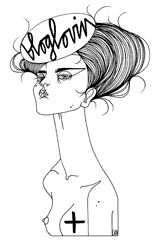 Recommended
3 Comments