"CLOSER" TONIGHT IN LUXEMBOURG
I am presenting you
this
year my photos in
Paris, Milan, London… and Luxembourg.
So tonight is the night! I am very happy to be at the Hôtel Place d'Armes tonight starting
6.30 pm for the opening night of

"Closer"

, my photography exhibition. I hope to see many
of
you there, we're gonna have a great time!
je vais présenter mes photos cette année à Paris, Londres, Milan… et Luxembourg.
Et ce soir nous commençons avec Luxembourg! Je suis heureuse d'exposer au superbe
Hôtel Le Place d'Armes à partir de ce soir, 18h30. J'espère vous voir nombreux! Vous pourrez
découvrir

"Closer"

et l'on risque
de bien s'amuser, je peux vous le promettre!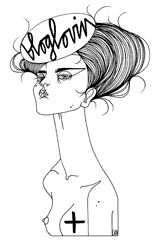 Recommended
3 Comments