CONFIDENCE BREEDS BEAUTY
Hey guys. So if you remember well, I talked about cosmetic surgery in THIS article and explained you the various treatments I did with Lazeo in Paris. I was super happy with them and about 6 months later, I went back to retouch what I previously did. My lips were injected with hyaluronic acid  as I like to have fuller lips. It's important to know that hyaluronic acid is an organic degradable product which can be augmented or reduced. I also got botox injections to erase the little wrinkles on my forehead and around my eyes. Lazeo proceeded to the injections of botox in the form of sprinkling, so that it remains natural, my wrinkles are erased and my face does not seem frozen.
I believe women shouldn't be afraid of talking about this. Why not changing the little details that bother you if it helps you feeling more confident? I am against excessive surgery but I find it great to be able to rectify something we don't like to feel more confident. I would love to hear your opinion on this!
You can contact the Lazeo Paris center, 50 avenue Victor Hugo, 75116 Paris (+331 43 59 10 10). They are also in London now: Lazeo Clinic, 8-9 Lambton Place, W11 2SH. If you want to take the plunge it is important to do it with someone you trust and who will accompany you during and after the treatments you decide to get.
Hello! Donc si vous vous souvenez, nous avions abordé le sujet de la médecine esthétique dans CET article et je vous avais expliqué les différents traitements auxquels j'ai eu recours chez Lazeo à Paris. Tout s'est bien passé et 6 mois plus tard je suis donc allée faire des retouches.  J'ai procédé à des injections d'acide hyaluronique au niveau des lèvres car jaime avoir les lèvres plus pulpeuses. A savoir que l'acide hyaluronique est un produit bio dégradable que l'on peut facilement augmenter ou réduire. Les injections de botox m'ont permis de lisser les rides du front et des yeux. Le centre esthétique Lazeo a procédé aux injections de botox sous forme de saupoudrage afin que cela reste naturel, que mes rides soient effacées sans que mon visage ne paraisse figé.
Les femmes ne devraient pas avoir peur de parler de cela. Pourquoi ne pas changer les petits détails qui vous dérangent si cela vous aide à avoir confiance en vous? Je suis contre une chirurgie excessive mais je trouve formidable de pouvoir rectifier les petites choses que nous n'aimons pas afin de nous sentir plus fortes. J'aimerais beaucoup connaitre votre opinion à ce sujet!
Vous pouvez contacter le centre
Lazeo
, 50 avenue Victor Hugo, 75116 Paris (+331 43 59 10 10). Ils sont également à Londres: Lazeo Clinic, 8-9 Lambton Place, W11 2SH. C'est important de faire confiance à une équipe professionelle qui vous accompagnera pendant et après le traitement.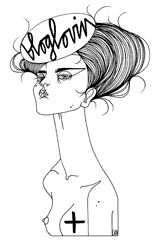 Recommended
3 Comments