DENIM ON DENIM
In Paris for a few events, a photoshoot and one of my friend's birthday that we celebrated
on Saturday night at l'Atelier des Artistes and Silencio.
It was raining cats and dogs all day long yesterday so we decided to hide ourselves
at the very chic Café de Flore in Saint Germain for a tea and a salad,
we chatted about blogger life, boys trouble and dreams for our future.
Wearing a denim look, denim shirt and jeans,
with a tank top that shows my new tattoo and neon Louboutin heels.
Have a great start of the week!
Boyfriend jeans: Topshop, similar

here
Denim shirt: Zara, similar

here
Tank top: H&M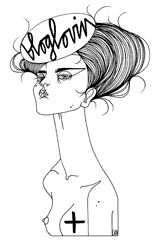 Recommended
8 Comments