#DOFRIENDSHIP – PANDORA
There are people you meet and they change your life. Friendship isn't about who you've known the longest but who walked into your life and won't leave your side, no matter what. I met Hannah ( @avechannah) about a year ago. We started travelling together with brands, we ended up working together on a project and it just clicked. I don't know what I would do without her, she is one of the sweetest persons I've ever met. She is smart and beautiful inside out. I feel so lucky to have her in my life and to be able to work with her. She is the avocado for my toast.
So when Pandora asked us to collaborate on a project together, we couldn't have been happier. Here's a video we filmed during the Lollapalooza music festival in Paris and I hope you like it.
To friends!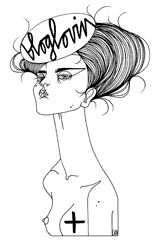 Recommended
2 Comments