FASHION WEEK ESSENTIALS
Here we go again. It's September which means the beginning of Fashion Week season. Leaving tomorrow for New York, followed by London and Paris! To survive the crazy month, I came up with a list of essentials, things to keep in your bag
everyday!
Nous y revoilà! Nous sommes en Septembre ce qui signifie que la Fashion Week va bientôt commencer. Je m'envole demain pour New York, puis Londres et Paris! Et pour survivre chaque jour de ce mois de folie, je vous ai préparé une liste de choses essentielles à avoir dans son sac!
1.
Moschino backpack
: quite the perfect bag during fashion week season, it's trendy and you can fit a lot in it!
2.
Frends headphones
: I like to listen to music when I am having coffee or if I am working on my laptop between shows.
4.
Klorane dry shampoo
: to absorb the excess of sebum, in just a few minutes the hair gets lighter and voluminous, super practical product.
5.
Givenchy ipad case
: a cool and trendy case for those who are bringing their iPads to the shows.
6.
Ray Ban Clubmaster sunglasses
: needed when the sun is shining. I used to bring loads of sunglasses with me but I now prefer to bring with me my most class pairs as it goes with everything.
7.
YSL mascara Effet Faux Cils
: I apply my makeup in the morning before leaving the hotel but like to keep my mascara with me for a little
retouche
during the day!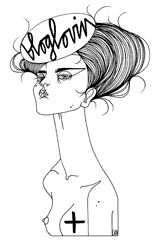 Recommended
9 Comments