FIRST DAY IN COPENHAGEN
So, as you all know, I've been in Copenhagen for 3 days!
Copenhagen is such a beautiful city, with great shops and nice bars and restaurants…
here are some pictures taken during the first day!
The day started at Joe & The Juice. T
hey have great fresh juices,
healthy and tasty lunch options, and awesome coffee!
Then I walked around the city with my sister who is studying in Copenhagen,
we did some shopping and had tea at a wonderful place: The Royal Cafe.
It's one of my favorite places to go
for a stopover during the day.
I love the interior design, the courtyard garden and
the long banquet tables
!
The
Royal Cafe describes itself as being "Funky Baroque – design confusion, humorous and chic".
We ended the day in a nice restaurant and with a walk in the city.
Pics of my second day coming tomorrow!
Wearing: Meteo fur vest, Zara denim shirt, white tee H&M, Zara jeans,
Louboutin studded boots, Balenciaga bag, Zara necklace, YSL ring, Zara hat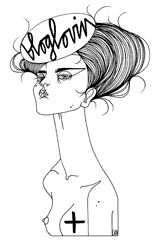 Recommended
55 Comments