GRAND PALAIS
My dress says it for me: COUTURE.
Another look worn during this Couture week in Paris. I simply adore this dress from Balenciaga: like a simple white tee you can wear with boots, gladiator sandals this Summer or sneakers.
We are celebrating today Bastille Day: French National Day, and I'm actually flying to Sardinia with Pinko so for the very first time I won't be celebrating in Paris! Big kisses to all my French readers, enjoy the night!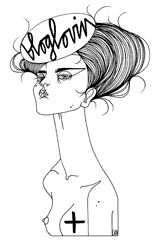 Recommended
7 Comments