HELLO 2015!
How is everyone doing? I hope you well celebrated the new year and enjoyed the BEST OF 2014 article I published last Friday! I thought it would be nice to talk to each other today, behind our computer screen and with our Sunday morning coffee.
In 2014, we changed the layout of My Little Fashion Diary. In 2015, I would like My Little Fashion Diary to become a global online fashion platform where you will find only top quality articles, interactive content, where you will be able to follow my adventures but also read about different topics fashion – beauty – lifestyle related. I want to produce more videos as well. I have lots of plans for this year. I want you to come visit me here whenever you are in search of inspiration, looking for adventure, positive energy. We're gonna experiment, try different things and travel more all together. I want to interact more with you. I want to know you better and I want you to know me better.
So here's to another year full of ideas, projects, mistakes to learn from and dreams to follow. See you on Monday for the first news regarding 2015! And tell me: is there anything you would like to see on My Little Fashion Diary?
………………………………………………………………………………………………………………………………………………………………………
Alors j'espère que vous avez bien fêté Nouvel An et que vous avez aimé mon article BEST OF 2014 publié vendredi! J'ai pensé que ce serait sympa d'échanger ensemble aujourd'hui, derrière nos ordinateurs avec notre café du dimanche matin.
En 2014, on a décidé de changer la mise en page de My Little Fashion Diary. En 2015, nous allons aller plus loin et je souhaite que My Little Fashion Diary devienne une plateforme en ligne où vous puissiez trouver des articles de qualité, un contenu interactif, où vous puissiez suivre mes aventures mais également en savoir plus sur différents sujets relatifs à la mode et la beauté. Je veux également produire plus de contenu vidéo. Beaucoup de projets cette année donc, j'ai vraiment envie que vous puissiez venir me lire chaque fois que vous êtes à la recherche d'inspiration, en quête d'aventure ou d'énergie positive. Nous allons expérimenter et essayer différentes choses, nous allons voyager ensemble. Je veux pouvoir interagir mieux avec vous et que l'on se connaisse davantage.
Donc voici une année qui commence avec beaucoup d'idées et de projets, des leçons à tirer de ses erreurs et des rêves à suivre. On se revoit ici lundi pour les premières news concernant cette année 2015! Et dites-moi: qu'est ce que vous souhaiteriez trouver cette année sur My Little Fashion Diary?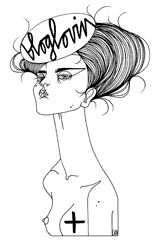 Recommended
3 Comments