HOW TO DRESS UP A SIMPLE WHITE TEE…
The white tee is a wardrobe staple, it can be worn with practically anything.
A simple white tee is so versatile
and you can easily dress up an outfit
by pairing it with a great skirt and heels!
The possibilities are endless…
So, when you can't find anything to wear, opt for this basic white tee
and mix it up with funky jewelry, great jeans or a wonderful skirt!
Have a great weekend guys!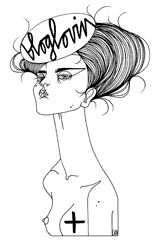 Recommended
134 Comments