HOW TO WEAR A SLIP DRESS THIS WINTER
Wore my favorite slip dress from last Summer over a turtleneck and well, it works quite well don't you think? I'm all about playful layering and I noticed I can actually wear this dress over pretty much everything from jumpers to blouses and jeans. So I have a few meetings planned this week, and if you follow me on Snapchat and IG Stories you might have seen I started baking my first Christmas cookies of the season ( I know I know… it's early!). And I am planning a few fun trips. How is your week going?
Talk soon!
J'ai porté ma robe nuisette préférée achetée cet été au dessus d'un pull à col roulé et je dois dire que c'est un look qui fonctionne plutôt bien non? J'adore jouer avec les superpositions, et cette robe marche super bien que se soit portée au dessus d'un pull qu'au dessus d'un chemiser et d'un jean. Donc voilà, j'ai quelques rendez-vous cette semaine, et si vous me suivez sur snapchat et IG Stories vous avez du voir que j'ai préparé mes premiers cookies de Noël ( je sais je sais… je commence tôt!). Et je prévois quelques petits voyages. Comment se passe votre semaine?
A très vite!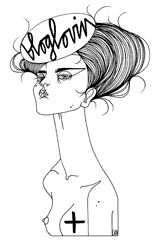 Recommended
5 Comments