IT'S A PINK PARADISE
Hey guys! So Los Angeles has been a blast so far and I am starting my second week here, so happy. And this weekend was the best: we went shopping on Rodeo Drive on Saturday, we had the best ice cream in the world at Sprinkles on Santa Monica Boulevard just next to Rodeo Drive ( I tried the coconut flavour which is now my favorite), and went to the Beverly Hills hotel. Here, everything is pink and green, it's pure paradise as you can see it in these pictures. We had dinner at Laurel's Hardware, one of my favorite restaurants located in Melrose ( I recommend you order the kale caesar salad and the truffle fries if you go) . On Sunday, we wanted to experience the Farmer's Market in Melrose as we've heard this is something people do on Sundays: cute shops and fresh products to buy, we loved it. So let's kick off this new week and I will come back here soon!
Hello tout le monde! Alors comme vous avez pu vous en rendre compte Los Angeles c'est le bonheur et j'entame ma deuxième semaine ici, je suis tellement heureuse. Et ce week-end a été génial: nous avons fait du shopping sur Rodeo Drive samedi, j'ai emmené les filles goûter la meilleure glace au monde chez Sprinkles sur Santa Monica Boulevard, juste à côté de Rodeo Drive (j'ai essayé le parfum noix de coco qui est désormais mon préféré), et nous sommes allées au Beverly Hills hôtel. Ici, tout est rose et vert, c'est le paradis comme vous pouvez le voir dans ces images. Nous avons dîné chez Laurel's Hardware, l'un de mes restaurants préférés situé à Melrose (je vous recommande la salade césar et les frites à la truffe si vous y allez). Dimanche, nous sommes allées découvrir le célèbre Farmer's Market à Melrose, nous avons entendu dire que c'est quelque chose que les gens adorent faire ici le dimanche: des shops adorables et des produits frais, nous avons adoré. Voilà, on débute une nouvelle semaine et je reviens ici très vite!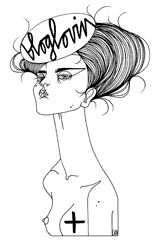 Recommended
2 Comments