J'ADORE PARIS GIVEAWAY
This week, I'm giving away a signed copy of J'adore Paris by Isabelle Laflèche.
J'adore Paris is the sequel to J'adore New York and continues where the first book left off:
lawyer Catherine Lambert is leaving New York to work in Paris for Dior.
Her boyfriend Antoine is moving there with her as well as her fantastic
bestfriend/ assistant Rikash!
And I happen to receive a little shout out in that book
as My Little Fashion Diary is mentioned 😉
Just leave a comment to enter and don't forget to add your email address.
The giveaway runs for one week, it will end next Wednesday when a winner will be
randomly chosen,
announced on the blog and contacted by email.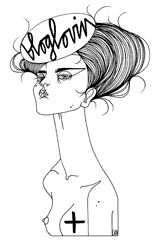 Recommended
32 Comments