KHAKI AND CREAM
Mixing khaki with cream shades and really digging the combination.
So how was your weekend? After a car accident on Friday (had to say goodbye to my lovely
Mini), mine was pretty cool.
And now we are kicking off the week with that song I've been
listening to over
and over again: Jake Bugg- Two fingers.
I'm gonna start working on a book project I want to publish… but more on that later.
Coat: Balenciaga
Sweater: Comptoir des Cotonniers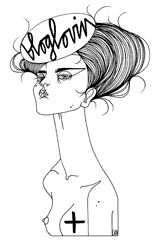 Recommended
14 Comments