LE MANEGE A BIJOUX
Le Manège à Bijoux propose des bijoux précieux et uniques, issus de créations exclusives de créateurs. Parmi 2500 références, il est facile de trouver le bijoux idéal pour soi même ou pour gâter un proche: que ce soit pour un anniversaire ou un mariage… Le Manège à Bijoux propose des prix abordables pour toutes les occasions, ce qui permet de se faire plaisir!
Le Manège à Bijoux offers unique pieces from exclusive creations. It is easy to find the ideal piece of jewellery among over 2500 references, for ourselves or someone we want to surprise, either it is for a birthday or a wedding… Le Manège à Bijoux is affordable so you can enjoy yourself!
Les bijoux permettent de sublimer la femme et d'accessoiriser ses looks. Pour moi, ils sont la touche finale avant de sortir de chez moi. J'aime porter des choses discrètes, délicates, qui sont faciles à mixer et que l'on peut porter le jour comme le soir. Ici, je porte des boucles d'oreilles en perle et un petit bracelet.
Jewellery is the best to accessorize your looks. To me, it is the final touch to my outfit before I leave the house. I like to wear delicate pieces which are easy to mix and that I can wear during the day as well as by night. I am wearing here some pearl earrings and a delicate bracelet.
Découvrez la sélection du Manège à Bijoux ici et dites moi quelles sont vos pièces favorites!
Discover the selection from Le Manège à Bijoux here and let me know which pieces are your favorites!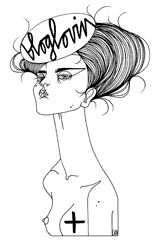 Recommended
3 Comments