LIFE ISN'T PERFECT BUT YOUR HAIR CAN BE
Un petit article beauté aujourd'hui afin de vous présenter un produit qui est très vite devenu un indispensable pour moi dans ma routine beauté, et qui va m'accompagner tout au long de cette fashion week! Vous l'avez découvert il y a quelques mois sur mon compte Instagram, il s'agit du nouveau Digital Sensor de Babyliss. Tout d'abord, il est ultra simple à utiliser car il n'y a que 3 boutons: on/off, air froid et vitesse de l'air. C'est tout. Concernant la vitesse de l'air, vous pouvez choisir entre le mode douceur pour les cheveux fins ( comme les miens) et le mode intense pour les cheveux plus épais. Je l'ai utilisé en avant première tout l'été et je ne peux plus m'en passer!
New beauty article today on the blog, to present you a product that very quickly became a must-have in my beauty routine, and that will accompany me throughout this fashion week! You discovered it a few months ago on my Instagram account, this is the new Digital Sensor from Babyliss. First of all, it is very simple to use because there are only 3 buttons: on / off, cold air and air speed. That's all. Regarding air speed, you can choose between softness mode for fine hair (like mine) and intense mode for thicker hair. I've used it all Summer already and I can't live without it anymore!
Le plus du Digital Sensor de Babyliss? Son intelligence. Son capteur maintient automatiquement une température adéquate de 70 degrés qui permet de respecter le cheveux. Impossible de brûler ses cheveux. Et en fonction de l'accessoire utilisé sur le sèche-cheveux, le capteur ajuste la vitesse et la pression du flux d'air. C'est top, j'ai remarqué que mes cheveux séchaient beaucoup plus vite, ils sont brillants et en parfaite santé!
The best of Babyliss Digital Sensor? Its intelligence. Its sensor automatically maintains an appropriate temperature of 70 degrees which respects my hair. It's now impossible to burn our hair. And depending on the accessory used on the hairdryer, the sensor adjusts the speed and pressure of the airflow. It's really great, I noticed that my hair dried much faster, it is shiny and perfectly healthy!
Enfin, il y a trois accessoires que l'on peut utiliser: un premier qui permet de lisser le cheveu ( c'est celui que j'utilise chaque jour), un second pour assurer un brushing précis et un dernier appelé diffuseur qui permet un résultat naturel. Avoir de beaux cheveux fait pour moi toute la différence, je me sens plus jolie et j'ai confiance en moi!
Finally, there are three accessories that can be used. The first one that allows my hair to be smooth and silky ( that's the one I am using), a second one to ensure an accurate brushing and the last one a diffuser which gives a nice natural result. Having beautiful hair makes all the difference to me, I feel prettier and more confident!
Retrouvez le Digital Sensor sur BaByliss.fr, darty.fr, fnac.com, sephora.fr et boulanger.com
Find the Digital Sensor on BaByliss.fr, darty.fr, fnac.com, sephora.fr and boulanger.com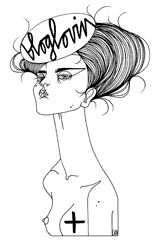 Recommended
1 Comment