LOOKING FORWARD TO HALLOWEEN IN LA
We are mid October already, it's time to plan Halloween! And I will be celebrating for the first time in Los Angeles. I am really looking forward to it as we don't celebrate that much in France. I am wondering if I will go out and get a costume but I must say I love a good Halloween movie. Getting cozy on the couch with a bowl of popcorn, a blanket and something spooky to watch! What are your favorite movies to watch for Halloween? I like Practical Magic with Nicole Kidman and Sandra Bullock, Hocus Pocus of course, The Addams Family, The Craft, The Nightmare before Christmas, Halloween… what are your favorites? Oh and if like me you love some good popcorn here's the best recipe for pumpkin spiced popcorn: pop your popcorn in coconut oil ( way more healthy than regular oil), mix in coconut oil, vanilla extract and pumpkin pie spice. You can pour pumpkin spice syrup over popcorn. Enjoy!
Nous sommes déjà mi-octobre, il est temps de planifier Halloween! De mon côté,  je vais célébrer pour la première fois à Los Angeles. Je suis vraiment impatiente car nous ne célébrons pas vraiment en France. Je me demande si je vais aller chercher un costume et sortir mais je dois dire que j'adore regarder un bon film pour Halloween. Sur le canapé avec un bol de pop-corn, une couverture et un film qui fait peur! Quels sont vos films préférés pour Halloween? J'aime beaucoup The Practical Magic avec Nicole Kidman et Sandra Bullock, Hocus Pocus bien sûr, La Famille Addams, The Craft, The Nightmare before Christmas, Halloween … quels sont vos favoris? Oh, et si comme moi vous aimez le popcorn, voici la meilleure recette pour un vrai pumpkin spiced popcorn: faites éclater votre popcorn avec de l'huile de noix de coco (une version bien plus saine que lorsque l'on utilise de l'huile normale), mélangez de l'huile de noix de coco, de l'extrait de vanille et des épices de pumpkin. Vous pouvez également verser du sirop de pumpkin en touche finale sur votre popcorn. Enjoy!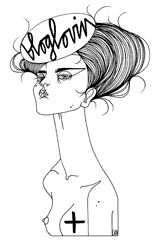 Recommended
1 Comment