MY PHOTOGRAPHY EXHIBITION IN LUXEMBOURG
Finally I can tell you more about it.
about the power of blogging in the fashion industry. I will show my photos also in Paris, London,
Milan… and many more cities this year. I'm very happy to share with you the dates of the
exhibition I am having in Luxembourg next month: it will be at the wonderful five stars hotel
Le Place d'Armes from the 13th to the 16th of March, with an opening night on the 13th.
If you live in Luxembourg and want to attend, please send me an email at:
And you can still watch the video of the exhibition in New York

HERE

!
Voilà il est temps de vous donner plus d'informations!
Comme vous le savez j'ai eu la chance d'organiser ma toute première

expo photo à New York
en novembre dernier sur le thème du pouvoir du blogging dans l'industrie de la mode
aujourd'hui. Je vais exposer mes photos dans chaque capitale de la mode, à venir donc: Paris,
Milan et Londres… et d'autres villes entre tout cela! La date de mon exposition à Luxembourg
a été fixée et l'exposition se déroulera du 13 au 16 mars à l'Hôtel Le Place d'Armes avec un
vernissage le jeudi 13 mars à partir de 18h30. Si vous habitez à Luxembourg ou dans les
alentours et souhaitez participez à l'évènement, envoyez moi un email à:
[email protected]
Et vous pouvez bien sûr toujours vous régaler avec la vidéo de mon expo à NY

ICI

!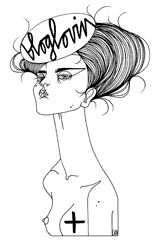 Recommended
20 Comments