NEOPRENE
This week is all about the upcoming exhibition in NY.
Photos were printed yesterday so I'm gonna go check out the result today!
Invitations are being sent, I'm still working on the guest list….
and guys an actor from the super famous tv show Homeland rsvp yesterday
and more are coming,
and we might get more celebrities it is all super exciting
and scary at the same time!
Dealing with sponsors today plus how to ship the photos to NY
where they will wait for me at the gallery.
Trying to enjoy every moment of the process
but it's not easy as I am getting super scared
and anxious….
Cette semaine est consacrée à mon exposition à NY qui arrive à grand pas.
Les photos ont été imprimées hier et je vais pouvoir vérifier le résultat aujourd'hui.
Les invitations sont envoyées petit à petit, et je travaille toujours sur la liste des invités.
Un acteur de la super série tv Homeland vient juste de rsvp et d'autres
devraient confirmer aussi… il semble que plusieurs célébrités seront au rdv mais chut!
En discussion avec les sponsors cette semaine et comment envoyer les photos
au plus vite et de la façon la plus sûre possible à la galerie à NY.
J'essaie de profiter de chaque moment mais ce n'est pas facile,
je suis effrayée et anxieuse…
A demain pour plus!
Bracelets: Hermès, Louis Vuitton, Beatriz Perla
Sunglasses: Urban Outfitters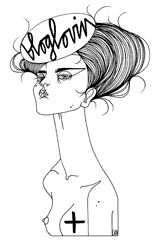 Recommended
8 Comments