NETFLIX SERIES TO WATCH
Netflix and chill! It's that time of the year again and I made a list of great shows to watch on Netflix this Fall. I would love if you share your favorites with me as well!
* Chelsea: the episodes are only 30 minutes. Comedian Chelsea Handler is hilarious and all about empowering other women.
* Breaking bad: if you haven't watched it yet, start now! Best show of all time. Chemistry teacher Walter White is diagnosed with cancer and given only two years to live. Determined to ensure that his family will have a secure future, he embarks on a career of drugs and crime. He proves to be remarkably proficient in this new world as he begins manufacturing and selling methamphetamine with one of his former students. He quickly becomes a major player of the drug trade.
* Orange is the new black: don't tell me you haven't watched this one either! It is so good and really addictive. You will smile, laugh and cry. Piper Chapman, a woman in her thirties, is sentenced to fifteen months in prison after being convicted of a crime she committed 10 years ago with her drug-dealing girlfriend.
* House of cards: a $100 million production budget, featuring amazing Kevin Spacey. I haven't seen yet but many of my friends are addicted and I've heard the first season is phenomenal.
* Gossip girl: the series follows the lives of privileged teenagers on the upper east side. Oldie but goodie!
* Pretty little liars: the series follows the lives of four girls whose clique falls apart after the disappearance of their leader, Alison DiLaurentis. One year later, they begin receiving messages from a mysterious "A", who threatens to expose all of their secrets, including the ones they thought only Alison knew. I love this show!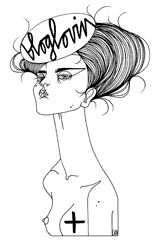 Recommended
2 Comments