PFW SS18
Hey guys! I hope you are doing well. It's Saturday and I am finally getting the chance to update the blog. I am working on a video which I filmed during Paris Fashion Week, I can't wait to share it with you! In the meantime, here are a few of my favorite looks worn over the week.
I wore this first look to attend the Ungaro and Alexis Mabille show. A blazer in my favorite print for Fall, my new Lancaster bag which I chose during their cocktail party last Thursday, Balenciaga jeans and this awesome Off White sheer lace top.
Wore the second look to the Moncler show, my last fashion show of the season. Went backstage with MAC Cosmetics, I actually got the opportunity to cover the backstage of many shows thanks to them! Hoodie is from Off White, jeans from 7 For All Mankind and boots are from one of my favorite labels, Vêtements.
Third look was worn for the opening of the new Charles Jourdan store near Medeleine, the shoes are from the brand, how adorable are they. Coat is from Maje, jeans 7 For All Mankind, bag Balenciaga.
I wore this stunning dress from Sandra Mansour to the Balmain x L'Oréal party. I love this designer, I wore a few of her dresses during the Cannes Film Festival already!
Wore this floral kimono from Alice and Olivia to attend the Lacoste show, Lanvin and Rochas as well. I don't wear a lot of print so that was a first haha. I love this necklace from Messika, one of the most beautiful pieces I've worn. I attended the 10th anniversary of the brand that night, Gigi Hadid was hosting the party and we had the best time!
This stunning pink silk dress is also from Sandra Mansour. I combined it to Saint Laurent heels and wore this look to the launch of Forbes in Paris and the 15th anniversary of Park Hyatt. What a great night!
Wore this total black outfit last Monday which was such a busy day. I started the day with the Karl Lagerfeld presentation, I attended the Leonard show, Giambattista Valli, the Monnier Frères jewellery presentation and finished the day with the Shiatzy Chen show. The blouse I am wearing is from Shiatzy Chen, heels are from Dior and clutch is from Saint Laurent.
This second look was one of my favorites. The sleeves of the blouse which is from Claudie Pierlot are so interesting. Gold skirt is from MKT Studio and shoes are from Chiara Ferragni. Wore this outfit to the Dior cocktail last Saturday night and the Vogue Brazil party.
Loved this playsuit from Alice and Olivia which I wore with Minelli over the knee boots and my Gucci bag to the photoshoot I had with MAC Cosmetics at the very beginning of Paris Fashion Week.
First look is a kimono from Alice and Olivia which I combined to some jeans, my Chiara Ferragni glitter pumps and this awesome silver bag from Barbara Bui.
I shared a close up of this look earlier, this is the full look. Lace sheer top is from Off White, jeans are from Balenciaga, jacket is Zara, heels are from Dior and let me introduce you to my new favorite bucket bag from Lancaster!
Here after the Shiatzy Chen show wearing an outfit from the brand and my Lancaster bucket bag.
Here I am wearing a white oversized blouse and a varsity jacket from American Apparel, bag is from Gucci and shoes from Minelli. Did my hair with My Naher, a new app you have to check out asap! We snapped this picture in front of Chez Julien, one of my favorite restaurants in Paris, you have to go if you haven't been there yet, their truffle risotto is to die for!
This second picture was taken after the cocktail party organised by Moët and before the Messika 10th anniversary, I am wearing a dress from Sandra Mansour again and a necklace from Messika.
The last look is from Shiatzy Chen, we took this picture during the fitting avenue Montaigne, I decided to go for the Chiara Ferragni pumps, I love adding glitters to my outfits during fashion week season!
There is a video coming soon, hope you guys will like it. What is your favorite look?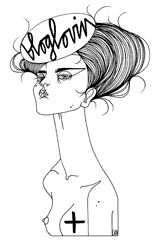 Recommended
2 Comments