READY FOR SEPTEMBER?
I've always been a huge fan of Balenciaga. Always. And since Gvasalia, the founder of Vêtements, took over the fashion house, I've been falling in love again with the brand. I am wearing here a total look from this Fall Winter 17/18 collection. What do you guys think? Also, September is just around the corner, and it's time to get ready for a big fashion month ahead. Like I told you on my last article, I will be in New York, London, Milan and Paris, and I will film fashion week season to be able to publish a big vlog for you, anything special you would like me to cover or highlight for you?
J'ai toujours été une grand fan de Balenciaga. Toujours. Et depuis que Gvasalia, fondateur de la marque Vêtements, a repris la maison, je suis retombée amoureuse de la marque. Je porte ici un total look de la collection automne hiver 17/18. Vous en pensez quoi? Aussi, Septembre approche, et il est temps de se préparer pour le mois des défilés. Comme je vous l'ai dit dans mon dernier article, je serai à New York, à Londres, à Milan et à Paris, et je filmera la saison des défilés afin de pouvoir publier un super vlog pour vous, est-ce qu'il y aurait quelque chose de spécial que vous voudriez que je vous montre?
Tee / skirt / jacket / boots
: Balenciaga via
Smets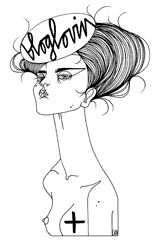 Recommended
4 Comments