SEX AND THE CITY 2 EVENT
Hi guys!
So yesterday I attended the Sex and The City 2 Premiere
organized in Luxembourg, and it was definitely a fun night!
We sipped champagne and had delicious cupcakes before the movie,
and the Louboutin exhibition was absolutely amazing!
I felt in love with all the shoes!
Here are some pictures of that event!
The movie was fun,
but I was a little bit disappointed, I expected more…
Anyway, I had an amazing time,
and it was like going out with girlfriends you haven't seen for a while:
Carrie, Samantha, Charlotte, Miranda….I've missed you so much!!!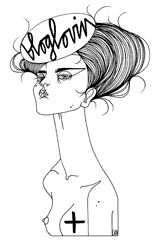 ( Denim shirt: ZARA, leather shorts: ZARA, leopard scarf: LOUIS VUITTON,
cuff: CHANEL, bag: HERMES)
Recommended
87 Comments