SEX AND THE CITY 2
Tonight I'm going to the Sex and The City 2 Premiere in Luxembourg,
and guess what? I'm SO excited
!
I'm a huge fan !!!
A Ladies' night is organized for all the fans with an exclusive exhibition of Louboutin shoes.
The fun, the fashion, the friendship: Sex and the City 2 brings it all back and more!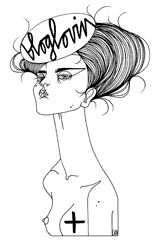 If you're not already doing it,
Recommended
20 Comments