SHIATZY CHEN
So I'm pretty sure you've noticed I've been wearing a few pieces from Shiatzy Chen during the last few months. It started in September during NYFW with an amazing see through dress. Then, I fell in love with a see through skirt I combined many times to cozy knits. And last week you've seen me in the most adorable mustard dress and lace blouse. Well, I wanted to tell you more about the brand. I discovered it early this year and was impressed by the luxurious fabrics, the embroidered patterns, the elegance of the cuts and the details.
Wang Chen Tsai-Hsia, the Taiwanese designer, applies her skills to lace like nobody else, working the fabric on lingerie style dresses for this Spring. Shiatzy Chen is often referred to as the Chanel of Taiwan. Nothing less.
Shiatzy Chen, it's also accessories. Strong accessories like this amazing blue bag. You can notice the details. The work behind it. I could only suggest you to have a closer look at the brand, you'll fall in love. For those of you living in Paris, stop by the store located 262 rue Saint Honoré and let me know what you think!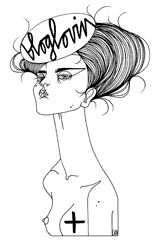 Recommended
1 Comment