SPRING TIME WITH PANOPLY
It's officially Spring in Paris. Weather has been amazing last weekend, I had my first ice cream of the season… and my first sunburn as well. Oops. I had a picnic and some rosé outside and forgot to apply sunscreen even though I knew the temperatures were going to rise. Well, I will be more careful next time! I went on a little boat trip as well, something I'm planning on doing again this week if the weather doesn't change. The dress I was wearing is from Marc Jacobs and I ordered it on Panoply.
C'est officiellement le printemps à Paris. Le temps a été incroyable ce weekend, j'ai pu manger ma première glace de la saison… et j'ai eu mon premier coup de soleil également. Oops. Nous avons organisé un picnic avec un peu de rosé et j'ai oublié de mettre de la crème solaire alors que je savais que les températures allaient grimper. Bon et bien je ferai plus attention la prochaine fois! Je me suis amusée aussi en louant un bateau, chose que je veux absolument refaire cette semaine si les temps ne change pas. Et cette petite robe que j'ai portée pour l'occasion est signée Marc Jacobs et je l'ai commandée sur
Panoply
.
And today I am sharing with you a few outfits I wore last week, I selected most of the pieces on Panoply, a concept I already introduced you to a month ago and which I love. How does Panoply work? You can select your favorite looks from more than 2000 pieces. Only the best designers and the latest collections. And you can keep them up to 8 days. Insurance, dry cleaning and pick up are included. You can subscribe to be able to rent 1 piece per month, 3, 5 or 10. How cool is that! This black outfit is from Wanda Nylon, I absolutely adore the big ruffles. So dramatic.
Et aujourd'hui je partage avec vous quelques tenues portées la semaine dernière, j'ai sélectionné plusieurs pièces sur
Panoply
, un concept que je vous avais déjà présenté il y a un mois environ et que j'adore. Comment cela fonctionne? Vous pouvez choisir vos looks préférés parmi plus de 2000 pièces des meilleurs créateurs et des collections actuelles. Vous pouvez les garder jusqu'à 8 jours. L'assurance, le pressing et les frais d'envoi et de retour sont inclus. Vous pouvez vous inscrire pour louer 1 pièce par mois, 3, 5 ou 10. Plutôt cool non! Cette tenue noire est de Wanda Nylon, j'adore les ruffles imposantes. Tellement dramatique.
I am wearing below a dress from Red Valentino. I choose this dress for an event with L'Occitane which was followed by drinks at the Plaza Athénée last Thursday. Super cute paired with my Saint Laurent in gold.
Je porte sur les prochaines photos ci-dessous une robe Red Valentino. Je l'ai choisie pour un évènement avec l'Occitane qui était suivi de quelques coupes de champagne au Plaza Athénée. Adorable portée avec mes petites Saint Laurent dorées.
I wore this next look to visit a few showrooms on Wednesday, I am attending the Cannes Festival in May ( I am so excited as it will be my first time) and I need spectacular dresses for the week. The trench coat is from Wanda Nylon and the top from MM6 Maison Margiela.
J'ai porté le look suivant pour visiter quelques showrooms mercredi. Je participe au Festival De Cannes au mois de mai ( vous imaginez à quel point je suis excitée, ce sera ma première fois) et j'ai besoin de robes spectaculaires. Mon trench coat est signé Wanda Nylon et mon top MM6 Maison Margiela.
It was fun to show you a few of the looks I wore over the week, have everyone a great Monday!
C'était sympa de partager avec vous quelques looks que j'ai portés au cours de la semaine, passez toutes un bon lundi!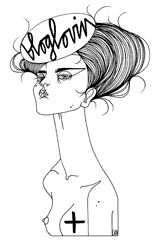 Recommended
7 Comments