STRIPES FOR SPRING
Striped top
Shorts: H&M, Garden Collection
Studded flats: LOUBOUTIN
Bag: CHANEL
I think you already know about BLOGLOVIN , this awesome website,
where you can add all your favorite blogs
and get all the updates in one place.
It's easy to use, fun….and really addictive!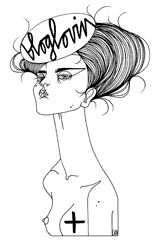 Thank you all so much for your comments,
for following MY LITTLE FASHION DIARY,
you are AMAZING!
Recommended
107 Comments