TALKING ABOUT COSMETIC SURGERY
Aujourd'hui je vous parle chirurgie esthétique. Ou plutôt médecine esthétique, car cela ne nécessite aucune hospitalisation ni anesthésie. Vous le savez peut être déjà si vous me suivez sur Insta Stories, j'y ai eu recours semaine dernière et j'ai partagé cela avec vous. Je vous avais également promis un petit article pour vous expliquer ce que j'ai fait exactement, donc voilà, chose promise chose due!
Today we are talking about plastic surgery. Or let's call it cosmetic surgery, as it doesn't require hospitalization or anesthesia. If you follow me on Insta Stories, you know I finally did it last week. I wanted to share this experience with you and thought I could also write an article to explain you everything I did, how and why.
J'ai procédé à des injections d'acide hyaluronique au niveau des lèvres et des pommettes, et j'ai également eu recours au botox sur le front et autour des yeux.
Les
injections d'acide hyaluronique
sont très efficaces pour reconstituer des volumes  ou encore pour redessiner une jolie bouche, et j'avais envie de donner plus de volume à mes pommettes et d'avoir des lèvres plus pulpeuses. A savoir que l'acide hyaluronique est un produit bio dégradable. Il faudra reiterer les injections au bout de 12 mois.
Le botox m'a permis de lisser les rides du front et rides autour des yeux. Je craignais d'avoir un visage un peu figé après les injections mais le centre esthétique Lazeo a procédé aux injections de botox sous forme de saupoudrage afin que cela reste naturel, que mes rides soient effacées sans que mon visage ne paraisse figé. Ce type de traitement doit être répété au bout de 6 mois pour obtenir un résultat optimal.
My lips and cheekbones were injected with hyaluronic acid then I got botox injections on the forehead and around my eyes.
The
injections of hyaluronic acid
are very effective and great to reconstitute volumes or to redraw the lips, I wanted to give more volume to my cheekbones and to my lips. That is to say that hyaluronic acid is an organic degradable product which can be augmented or reduced to my preference. Injections should be repeated after 12 months.
With
botox
, I got to smooth the wrinkles of the forehead and the wrinkles around my eyes. I was afraid to have that frozen effect on my face after the injections, but the Lazeo center proceeded to the injections of botox in the form of sprinkling, so that it remains natural, my wrinkles are erased and my face does not seem frozen. This type of treatment must be repeated after 6 months to obtain an optimal result.
Vous pouvez contacter le centre Lazeo Paris, 50 avenue Victor Hugo, 75116 Paris ( +331 43 59 10 10). Ils sont également à Londres. Si vous voulez sauter le pas il est important de le faire avec quelqu'un de professionnel, quelqu'un en qui vous avez confiance et qui vous accompagnera pendant et après.
You can contact the Lazeo Paris center, 50 avenue Victor Hugo, 75116 Paris (+331 43 59 10 10). They are also in London. If you want to take the plunge it is important to do it with someone professional, someone you trust and who will accompany you during and after.
La chirurgie esthétique reste un sujet tabou en France, mais je pense que nous devrions être capable d'en parler. Je ne suis pas pour la chirurgie ou les injections à outrance, mais il faut admettre qu'il est formidable de pouvoir être capable de rectifier quelque chose qui nous complexe si cela peut nous permettre d'avoir confiance en soi. J'ai une amie qui était complexée de ne pas avoir de poitrine, elle a pu rectifier cela et cela lui permet enfin d'oser se mettre en maillot sur la plage. Une autre amie à moi était complexée par son nez, et après avoir eu recours à la chirurgie, elle accepte enfin de se laisser prendre en photo et se sent à l'aise en société. De mon coté, c'était plus une question de vanité, il est vrai qu'il s'agissait plutôt d'arrêter les effets du temps, et je trouve cela génial de pouvoir le faire. J'aimerais beaucoup avoir votre avis sur le sujet, est-ce quelque chose que vous avez fait, que vous avez envie de faire, êtes vous pour ou contre?
Cosmetic surgery remains a subject people don't like to talk about in France, but I think we should be able to discuss it. I am not for excessive surgery or injections, but I must admit that it is great to be able to rectify something to feel more confident. I have a friend who couldn't go to the beach because she didn't have breasts, she was able to rectify that and it changed her life. Another friend of mine never liked her nose, and after surgery, she was finally ok with having her picture taken and could feel comfortable with other people. For my part, it was more a question of vanity, it is true that it was rather a matter of stopping the effects of time, and I find it amazing to be able to do it. I would love to hear your opinion on this, is it something you have done, that you want to do, are you for or against cosmetic surgery?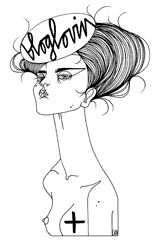 Recommended
11 Comments