THE LITTLE CAT-PRINT DRESS
Lately, with the summer sale, it has been kind of hysterical in the stores…
( So worth it! ) I hope you made good bargains!
I bought that Zara's Miu Miu inspired cat-print dress,
some of you may have seen it in a lot of blogs,
but I really wanted to buy it and never got my hands on it….until last week!
The heat wave is supposed to continue throughout the week…
not easy to dress when it's that hot!
Have a great week guys!
Dress: ZARA
Tank: ZADIG ET VOLTAIRE
Belt: ZARA
Bag: CHANEL
Flats: LOUBOUTIN
I know what you think…I really should stop wearing these flats…
but they actually are my favorite shoes at the moment!
Comfy and stylish 😉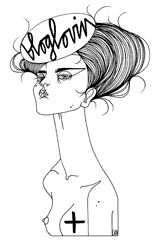 Recommended
153 Comments