THE PINK VELVET SUIT
Unlike most people living in Paris who take it for granted, I always get excited when passing by the Eiffel Tower. And since most of the shows where taking place near this beauty I couldn't resist stopping by for a picture, to show you this gorgeous pink velvet suit. I'm obsessed with everything velvet and I love pink, which is going to be THE colour of this season. What do you say? So Paris Fashion Week was busy and a lot of fun as well. I saw beautiful shows, went backstage with beauty brands, attending crazy parties and got to prepare a few nice projects for the upcoming months. Can't wait to tell you more about that! Have a great start of the week and I will share with you very soon a video from this PFW edition so stay tuned!
Contrairement à la plupart des gens à Paris qui la prenne pour acquise, je ne peux m'empêcher d'être excitée à chaque fois que je passe devant la Tour Eiffel. Et étant donné que la plupart des défilés ont lieu proche de cette beauté, je n'ai pas pu résister et il fallait que je m'arrête pour prendre quelques photos ici et vous montrer ce costume en velours rose incroyable. J'adore tout ce qui est en velours et le rose, qui est LA couleur de cette saison, est également l'une de mes couleurs préférées. Qu'est-ce que vous en dites? Cette fashion week parisienne a été intense mais fun aussi. J'ai vu de très beaux défilés, je suis allée backstage avec quelques marques de beauté, j'ai pu me rendre à des soirées très sympas et préparer quelques projets pour les mois à venir qui me tiennent à coeur. Hâte de vous en dire plus! Je vous souhaite une belle semaine et je partagerai très vite avec vous une vidéo de cette PFW!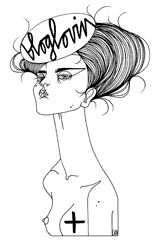 Recommended
4 Comments