THE PRINT TO WEAR THIS FALL
September is here which means time to do some shopping for Fall! I already got a few things as I am heading to New York for fashion week on Friday, and that blazer definitely is one of the best pieces I got… and it comes from Zara guys! Such a cool piece as you can easily dress it up or down. The tweed print is going to be one of the biggest trends this Fall and I love its preppy vibe. What do you guys think?
Et voilà nous sommes au mois de septembre, il est temps de commencer son shopping pour l'automne! J'ai déjà fait quelques achats étant donné que je m'envole pour la fashion week de New York vendredi, et ce blazer est certainement l'une des pièces que je préfère … et il vient de chez Zara! Une pièce très sympa que vous pouvez facilement porter de façon chic ou de manière plus cool. L'imprimé tweed sera l'une des plus grandes tendances de cet automne et j'adore son coté preppy. Qu'est-ce que vous en pensez?
Blazer
: Zara similar
here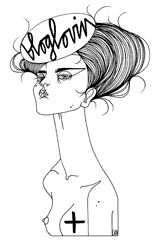 Recommended
4 Comments