WINTER COATS
Currently in Paris but I wanted to share with you an outfit shot in Luxembourg earlier this week. New York fashion week is in just a few weeks now and it's gonna be icy cold! While thinking about what to pack for NY, I remembered outfits I wore last year and I was freezing! So this season, I'm gonna be ready to fight the cold with plenty of really cool and warm coats ( the black ones might stay at home) and bundle up in layers. I have a little coat collection but they all look classic: the good thing is that they go with absolutely everything in my wardrobe but I decided to opt for some bold colours and coats with an interesting twist like this one, sleeveless with such an interesting pattern. Any suggestions for Winter coats? What are your favorite ones?
…………………………………………………………………………………………………………………………………………………………………..
Je suis en ce moment à Paris mais je voulais partager avec vous un look shooté à Luxembourg en début de semaine. La fashion week New-Yorkaise commence dans quelques semaines et il va faire froid, très froid! En réfléchissant à quoi emporter dans ma valise, je me suis souvenue de quelques unes des tenues portées l'année dernière et je me souviens m'être gelée! Donc cette saison, je serais prête à affronter le froid avec des manteaux bien chauds et sympas ( les manteaux noirs vont donc certainement rester dans mon placard). J'ai une petite collection de manteaux mais tous sont plutôt classiques: le point positif c'est qu'ils vont avec tout mais j'ai décidé d'opter pour des couleurs et des versions différentes comme celui-ci sans manche et avec un imprimé intéressant. Des suggestions? Quels sont vos manteaux d'hiver favoris?
Sweater
: Isabel Marant via
Smets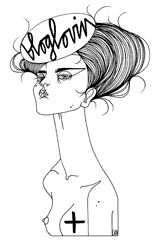 Recommended
9 Comments