BACK TO SCHOOL… FASHION MONTH
Hey guys! Last days of August… I am already shopping for Fall and organising my schedule for fashion month. So I will be attending New York Fashion Week from the 8th to the 13th of September, then I will fly to the UK for London Fashion Week. I will be two days in Milan for an event and a few shows and then I will come back to Paris to cover all Paris Fashion Week! So I want to rest as much as I can before kicking off this big month!
Coucou! Nous entamons donc les derniers jours du mois d'août … je commence mon shopping pour cet automne et j'organise mon calendrier pour le mois des défilés. Je serai à New York pour la Fashion Week du 8 au 13 septembre, puis j'attaquerai avec la London Fashion Week. Je serai 2 jours à Milan pour un évènement et quelques défilés avant de rentrer à Paris pour la Fashion Week parisienne! Je veux donc me reposer autant que possible avant de commencer ce mois qui s'annonce plus que chargé!
Dress
: Off White via
Smets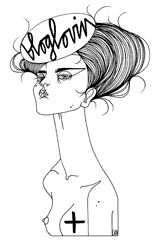 Recommended
3 Comments