DARPHIN
Hi guys! For those who are following me on social medias you might have seen that I've been a few times to the Dauphin Institut in Paris. The people from the institut took care of my skin after fashion week and after Calvi on the rocks, and they introduced me to a few products I'm currently using and which I love.
Coucou! Pour ceux qui me suivent sur les réseaux sociaux vous avez pu constater que je suis allée plusieurs fois à l'institut Darphin à Paris. Les personnes de l'institut se sont occupées de ma peau après la fashion week notamment et également après Calvi on the rocks, et je voulais aujourd'hui vous présenter les produits que j'utilise en ce moment et que j'adore.
I am applying Hydraskin Intensive Serum before my cream. It instantly delivers hydration to all thirsty skin.
J'utilise Hydraskin Sérum Intensif avant ma crème. Il hydrate immédiatement toutes les peaux déshydratées.
Then, I apply Hydraskin Light Gel Cream. It's ideal for combination skin like mine as it is a light gel cream which helps moisturising the skin.
Ensuite, j'utilise le Gel Crème Hydraskin Light. La texture gel est idéale pour les peaux mixtes et permet d'hydrater la peau.
At night, I apply the Aromatic Purifying Balm which is perfect for skins with imperfections. The oils formula clarifies the skin and helps reducing the imperfections for a clearer skin.
La nuit, j'applique le Baume Purifiant Aromatique qui est parfait pour les peaux sujettes aux imperfections. Il clarifie le teint pour le rendre plus uniforme et permet d'obtenir une peau plus saine.
Have you already tried Darphin?
Est-ce que vous avez déjà utilisé Darphin?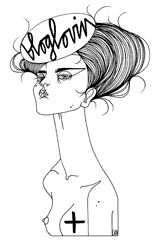 Recommended
1 Comment