SUMMER 2017 IS COMING SOON
Summer is just around the corner and I couldn't be happier. I got back from Cannes on Monday, I had an amazing time there for the Closing Ceremony of the Film Festival… I will cherish these memories forever ( vlog coming up really soon). And the sun is shining in Paris which makes work easier than usual. I will be travelling next week to Deauville then Venise, and I will be busy at Roland Garros this weekend. So life is good and I couldn't complain. Soon enough it will be time to make plans for the Summer.
L'été arrive et j'ai vraiment hâte. Je suis rentrée de Cannes lundi, j'y étais pour la Cérémonie de Clôture du Festival du Film… je me souviendrai de ces moments pour toujours ( un vlog arrive d'ailleurs très vite). Et le soleil brille à Paris ce qui rend le travail beaucoup plus agréable. Je voyage semaine prochaine, à Deauville puis à Venise, et je serai occupée à Roland Garros ce weekend. La vie est belle donc et je ne peux pas me plaindre. Et puis très vite les vacances d'été approchent!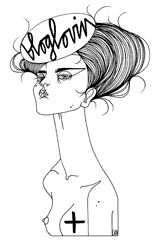 Recommended
6 Comments