THE SIGNATURE ITEM
Today we're gonna talk about the signature item. Because I believe that every girl has that one detail that brings her outfit together. It can be a designer bag, a leather jacket, a pair of heels… It's a piece of clothing or an accessory that you cherish and that define your style, that makes people recognise you so you can keep the rest of your outfit simple. Do you have one? What is it? I am curious to know!
If you've been following me for a while, you might have noticed that I like to experiment with fashion, I like to mix and match, have fun with the trends. But there is always one thing that doesn't change: my love for striped tees. I'm not gonna lie to you: I think I own around 50. They all look alike but somehow they are all different from each other.
And when I wake up in the morning, if I don't know what to wear or if I'm in a hurry, you will see me grabbing one. I will pair it with skinny jeans, boyfriend jeans, a black pencil skirt, white shorts….everything.
This is a look I adore, simple yet stylish. Timeless as well …and very me.
I also believe that every French girl knows all about the importance of basics. One thing my mom taught me and I've learned through the years: don't go crazy on trendy clothes you will only wear one season. Invest in good basics.
You can build the perfect wardrobe by investing in the good basics. And keep that signature item of yours.
Do you tend to spend more on fashionable items or basics? Do you have a signature item?
Striped tee
: Five Jeans similar
here
Boyfriend jeans
: Five Jeans similar
here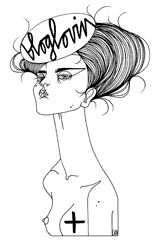 Recommended
8 Comments