BRING ON 2017
At the beginning of each new year, I like to reflect on everything that happened over the last year.
On a professional level, I had a great year. I got my first assistant and learned how to work with a team. I had the chance to collaborate with many brands I adore. I got to travel a lot to new amazing places such as Santorini or Marrakech. Something I want to keep doing in 2017. I met talented people and got ideas for new projects. I started working on video content which is something I truly enjoy.
On a personal level, this year has been tough. There were many personal struggles. Struggles that I haven't shared on social media. The man who has been sharing my life for 3 years cheated on me ( again) and we had the hardest time trying to make our relationship work. Also, I got pregnant and had to get an abortion. I definitely want to have babies, I already turned 30, but it was not the right time and like I said, my relationship wasn't working well. It has been like a wake up call for me. I realized I had to start focusing on my own happiness. I got to figure out who I am and what I want for my life. In 2017, I will travel more and visit places I've never been to. I want to focus on work and on myself. I want to get better at what I am doing. Better at photography, better at creating video content ( go subscribe to my YouTube channel here), better at building new projects. I am also taking the time to tell you how grateful I am to have you all, this blog has been the best adventure of my life and I hope to be able to keep doing what I do thanks to you all. Let's make 2017 the best year ever. Do you have any goals for the new year?
Au début de chaque nouvelle année, j'aime réfléchir à tout ce qui s'est passé au cours de la dernière année.
Sur le plan professionnel, j'ai eu une excellente année. J'ai eu ma première assistante et j'ai appris à travailler avec une équipe. J'ai eu la chance de collaborer avec de nombreuses marques que j'adore. J'ai beaucoup voyagé et j'ai découvert des endroits fabuleux comme Santorini ou encore Marrakech. Voyager, c'est une chose que je veux continuer à faire en 2017. J'ai rencontré des gens talentueux et j'ai pu développer des idées pour de nouveaux projets. J'ai commencé à travailler sur du contenu vidéo, quelque chose que j'apprécie vraiment.
Sur le plan personnel, cette année a été difficile. J'ai vécu des moments durs dont je n'ai pas parlé avec vous sur les réseaux sociaux. L'homme qui a partagé ma vie pendant 3 ans m'a trompé (encore) et nous avons eu du mal à essayer de faire fonctionner notre relation. Aussi, je suis tombée enceinte et j'ai dû subir un avortement. Je veux vraiment avoir un enfant, j'ai déjà passé les 30 ans, mais ce n'était pas le bon moment et comme je l'ai dit, ma relation ne fonctionnait pas. Cela fut comme un réveil pour moi. J'ai réalisé que je devais commencer à me concentrer sur mon propre bonheur. J'ai pu comprendre qui je suis et ce que je veux pour ma vie. En 2017, je veux voyager encore plus et visiter des endroits où je ne suis jamais allée. Je veux me concentrer sur mon travail et sur moi-même. Je souhaite être meilleure dans ce que je fais. Meilleure en photographie, meilleure en création de contenu vidéo ( allez suivre ma chaine YouTube ici), en développement de nouveaux projets. Je prends aussi le temps de vous remercier, ce blog est la meilleure aventure de ma vie et j'espère pouvoir continuer à faire ce que je fais grâce à vous tous. Faisons en sorte que 2017 soit la meilleure année que nous ayons jamais vécue. Et vous, vous avez des objectifs à atteindre cette année?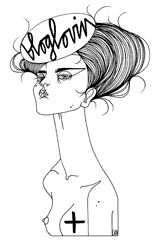 Recommended
5 Comments