HOW TO FIND THE HOLLYWOOD SIGN

Hey guys! So I am pretty sure many of you have tried to find the Hollywood sign when hiking in LA. And this time, I really wanted to hike all the way to the top. And what a hike it was. It took us almost two hours to walk up there, we got a bunch of pictures of course… and decided to sit there, to enjoy the moment and watch the sunset. What we didn't think about was that it gets dark pretty quickly in Los Angeles and a few minutes after the sunset, it was all black. And cold. And there were no lights. Pretty scary right. We got lost on our way back down, we took a wrong turn, had to walk back, we had no lights with us and not much battery on our phones… Monica kept talking about the mountain lions she was afraid to bump into haha. We walked for almost two hours and finally got back to the entrance, to find that they had closed the gates already. We were locked up in the park! We had to call 911 and the rangers to help us haha. We are laughing about this story now but we were not laughing when it all happened. Luckily for us, the nicest woman happened to park by the entrance of the trail and helped us climbing over the gates. She basically saved us! Long story short, that was one crazy night, but it was worth it. Life is an adventure and you create new memories everyday! So if you want to find that view point, you have to drive through Canyon Drive. There is a parking inside the boundaries of Griffith Park, but I suggest to park outside, on the street along Canyon Drive. The trail begins in a park area with trees and a picnic area. From there, it will take you between one and one and a half hours. Take some water with you, wear some sunscreen, and make sure your phone is fully charged!
Thank you Monica for sharing this adventure with me!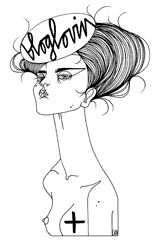 Recommended
2 Comments