NYFW SURVIVAL GUIDE
It's that time of the year again! Fashion month is about to start and I am flying to New York on Saturday morning. Surviving NYFW is something I've learned over the seasons so I selected for you a few things that are necessary!
Canon G7: a camera with wifi! It makes life so easy when you can transfer your photos right to your phone from your camera.
Baume de rose By Terry: always in my bag! The perfect brightening pick-me-up, enhances and replenishes lips. Plus the packaging is extra cute.
Gucci sneakers: because running from a show to another one in high heels is tricky and sneakers are ultra cool this season!
Chloé aviator style sunglasses: do I really need to explain you why having sunglasses with you during fashion week season is important?
Lait crème concentré Embryolisse: this now cult formula can be used as a moisturizer, cleanser, mask or primer. A skin saver.
Caudalie Instant Detox Mask: the best detoxifying mask I've tried so far. I always carry it with me when travelling. A must-have during fashion week season when you know you're not gonna sleep enough!
Vêtements hooded bomber jacket: the label everyone is talking about, the bomber jacket everyone wants.
Battery case for Iphone 6: LIFE SAVER.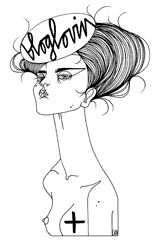 Recommended
4 Comments