STRIPES AND RIPPED JEANS
Stripes and denim. A look I've been wearing a lot over the years. I love it and I guess it's the kind of look one can easily rock, I love outfits I can easily pick and wear, while looking cool and chic. So yes, this is definitely my go-to outfit! If you guys read my latest post, you know I decided to create more videos and boost my YouTube channel, I find video content much more interactive. And because I like to keep my promises… well there will be one coming up very soon! I am also design a new version of the blog. Better content, better design, better everything am I right? And more travels like I announced you earlier this week with some places I've always dreamed of visiting and that I will get to see this year. I like to remember that we only have one life. And at the end of it, we won't be given another one… so we better make the most of the life we have. That is my motto for 2016.
Des rayures et du jean. Un look que je porte depuis des années. J'adore et puis c'est le genre de look qui est facile à porter, j'aime les tenues que l'on choisit facilement le matin et qui nous permettent d'avoir l'air cool et puis d'être chic aussi. Donc si vous avez lu mon dernier article, vous savez déjà que je souhaite faire plus de vidéos et booster ma chaine YouTube. Je trouve le contenu vidéo beaucoup plus interactif. Et parce que je tiens toujours mes promesses… il y en a une première qui va arriver très vite! Aussi, je vais travailler sur un nouveau design pour le blog. Un meilleur contenu, meilleur design, que du meilleur quoi! Et plus de voyages comme je vous l'ai annoncé plus tôt cette semaine, des endroits que j'ai rêvé de visiter et que je vais enfin découvrir cette année. J'aime me souvenir que nous n'avons qu'une seule vie. Et qu'à la fin, on ne nous en donne pas une autre… donc il faut profiter de celle que l'on nous a donné.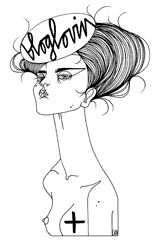 Recommended
7 Comments