PARIS FASHION WEEK: LUNCH AT LADUREE
a place of inspiration in pastels and magic,
Isabelle worked for six years in New York City as a corporate attorney
in a large law firm and " J'adore New York" is her first novel.
If you liked The Devil wears Prada… well you HAVE TO READ Isabelle's book.
Her first book is a success and she's in Paris during this Fashion Week
to get inspired for her second book!
We had a blast, enjoyed our lunch at Ladurée and went for shopping
before heading to the shows!
Hope you enjoyed the pictures, talk to you tomorrow!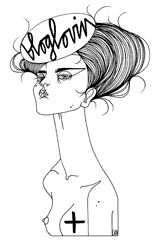 Recommended
37 Comments