SUNDAY'S OUTFIT
Good morning sunshines!
How did you spend your weekend?
Yesterday, I decided to enjoy the sun,
it was over 35 degrees all day long!
My outfit: a striped top over my bikini, denim shorts and flats!
Simple and comfy, perfect for a day out on the water!
I catched some sun on the boat, went to an exhibition,
made cocktails, eated apple pie and watched the world cup!
I'm not an expert at doing hair and when I want to do something
I usually opt for the ponytail or the side braid,
but yesterday I wanted to try something different 😉
Hope you like it!
Have a great week!
Shorts: ZARA
Striped top: H&M
Flats: CHANEL
Bag: CHANEL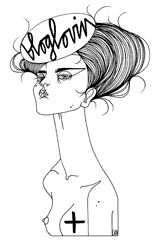 Recommended
114 Comments