WIN A 200 EUR GIFT CARD TO SPEND AT LUISAVIAROMA!
Kicking off the week with a cool competition organized by Luisaviaroma!
You can be lucky and get a 200 EUR gift card to spend at Luisaviaroma,
top online luxury fashion destination featuring designer clothes,
shoes and accessories for men and women from the most prestigious
fashion designers such as Lanvin, Alexander Wang, Chloé, Balmain, Givenchy…
The competition starts today and runs until the 4th of November.
Winner will be announced on the blog and on facebook.
To enter:
1. Subscribe to Luisaviaroma's newsletter
2. Like My Little Fashion Diary on Facebook
3. Leave a comment there 🙂
On commence la semaine avec une super compétition organisée par Luisaviaroma!
L'une de vous peut être l'heureuse gagnante d'un bon de 200 EUR à dépenser
chez Luisaviaroma, la destination
Pour participer:
1. Inscrivez-vous à la newsletter Luisaviaroma
2. Suivez My Little Fashion Diary on Facebook
3. Laissez un commentaire ici 🙂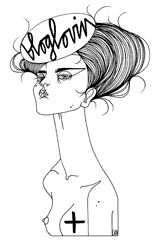 Recommended
39 Comments